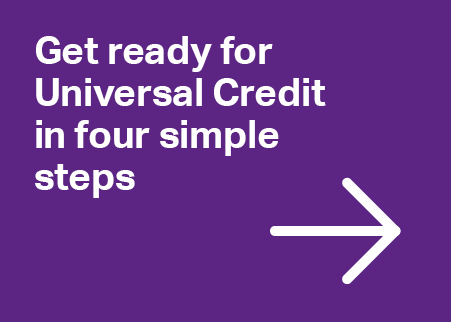 What is Universal Credit?
Universal Credit is a monthly payment which you can claim if working and on a low income or out of work.
Universal Credit applies to all people making a new claim or if there has been a change of circumstance to a current claim. Take a look at the transition rollout schedule below to see when universal Credit will be live in your area.
Universal Credit Transition Rollout Schedule.
Universal Credit replaces a number of different benefits into one single payment. The benefits that have been replaced are:
Income-based Jobseeker's allowance
Income-related employment support allowance
Income support
Working tax credits
Child benefit/tax credits
Housing benefit
Universal Credit is paid monthly in arrears directly into your bank or building society account, so you should budget for your money to last the month.
Once you start to claim Universal Credit, we will no longer receive housing benefit directly from the local authority on your behalf. You will be responsible for paying your rent and service charges to us. Your tenancy agreement says that you have to pay your rent in advance and once you are transferred to Universal Credit, you will need to make sure that it is paid on time.
If you require further information please follow the link below:

You can see if Universal Credit has come in to affect in your area by viewing the entitled to interactive map. Alternatively, if you need further advice please contact the National Universal Credit Freephone helpline on 0800 328 9344.
Why not also download our handy pocket guide on universal credit? That way you can refer back on any information when needed. Alternatively, you can call us on 0300 1234 009 and we will send you a guide by post.
Getting Online
Being online is a key part of getting universal credit (UC).  Universal Credit can only be claimed via the internet and you are expected to manage your claim through an online account so if you do not have access at home you may need to go to your job centre, council offices or your local library. Claims will be administered by the Department of Work and Pensions (DWP) at a central location rather than by your local council, job centre plus, or benefits agency.
What you will need to make a claim
Before you sit down at a computer to make your claim, you will need to make sure you have the following information to hand;
Your National Insurance Number
Your email address
Your phone number
Your address
Your landlord's address
How much rent you pay (proof may be required, such as a tenancy agreement)
Your bank details
Details of any savings you have
Full details of your salary or any other income (including other benefits)
If you have children;
Their details, Child Benefit number
Childcare Provider's address and registration number
Support
If you think you are going to struggle to manage a budget or you feel you are falling into debt talk to us before your situation gets out of control. It's important to always keep us updated so we can help you keep on top of your rent. We may be able to give you advice, set up an affordable rent agreement or direct you to an agency that can provide you with support.
Our staff can help you with:
Making a claim for Universal Credit
Advice on how to budget monthly
Advice on how to manage any debts you already have
Support to open a bank account
Support with savings via local credit unions
Setting up a Direct Debit to pay your rent
Setting up affordable agreements to support you to get in advance with your rent
Discretionary Housing Payments
If Housing Benefit is one element of your Universal Credit claim and you are struggling to pay your rent, you can ask your local council whether they may consider you for a Discretionary Housing Payment (DHP). Different authorities have different rules, so ask the housing department if you can apply and explain your current situation. You cannot claim DHP if you're behind because you have been sanctioned by Jobcentre Plus.
For further information Turn2Us provide an informative guide on discretionary housing payments.
The Social Fund
The Social Fund incorporates a number of different types of support for people on low incomes. This fund is accessed through the Jobcentre Plus. You will need to ask if any of the Social Fund could be of help for you as different rules apply. If you're turned down, you could possibly seek a second opinion from an advice agency.
Foodbanks
If you do find your self struggling it may be that you can get help from a local food bank. Food banks provide up to 3 days worth of food to people in need. They are often run by a church or community group.
You would need to be referred and provided with a food bank voucher. You can get a voucher from local charities, doctors' surgeries, health visitors, social workers, Citizens Advice, other welfare advice centres and us your landlord.
For answers on any other queries you may have please take a look at our frequently asked fact sheet or you can click here for more helpful advice from the Money Advice Service website.
Alternatively, if you have any further questions, please call us on 0300 1234 009.